The Crazies (2010) | Atrévete a visitar este pueblucho
Director:
Breck Eisner
CINE: Feb 26, 2010
DVD: Jun 29, 2010
Agregadisima a la lista de favoritas ! No precisamente de zombies pero se maneja de una manera muy similar a las de ese genero (y como no si la historia original es de tu abuelito zombie favorito: George A. Romero!).
En el pacifico pueblo de Ogden Marsh los vecinos empiezan a comportarse de manera extraña y el Sheriff va investigando cada caso hasta que revela la verdad. Te tiene ahi atento a la pantalla, no faltan los tipicos sustos y ruidos repentinos que te hacen brincar y espacios sin movimiento musica o sonido alguno que te mantienen tenso. Tymothy Olyphant es el Sheriff del pueblo y hace un buen papel con su no-humor caracteristico que le mete a sus personajes haha, tienen que verlo.
Esta divertida, y el ambiente sombrio y momentos de humor negro son similares al remake del 2004 de Dawn of The Dead , asi que si esa movie esta en tus favoritas, esta de seguro te va a gustar tambien!
Les Dejo el trailer y otros posters que tambien hicieron para la pelicula: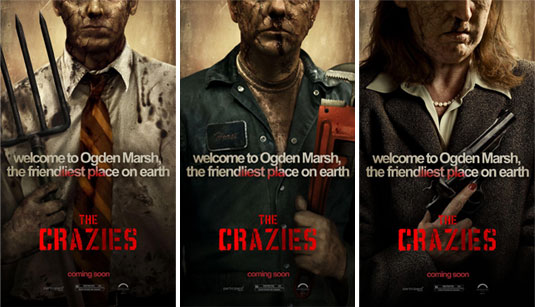 Dale play a la #zombiemadness !

.